It's FSF time again and this weeks post prompt word is Candidate. Here is my effort. Hope you like it.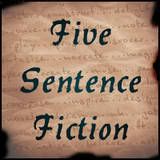 It wasn't just a job, it was THE JOB, the career opportunity of a lifetime and I had made it to the shortlist for the interview with two others.
I had revised for weeks, I knew more about the company than anyone; hours of time on the internet trawling for information, news articles and information on other companies in the same marketplace to compare and contrast.
I had a presentation on my laptop that I had spent hours on, it had animations and sound effects, charts and figures, sentences with big words and phrases in them like "marketization" and "in depth field analysis".
I also had bought a killer suit, new shirt, tie and cuff-links to look the business while I talked the business.
I sat in the waiting room and my name was called, I stood up and smiled, grabbed my laptop and notes, set them up and sat down in the chair in front of the panel of three mind buzzing with how I was the man for the job; one of them asked my name and all I managed to say was: "Um?".
Lillie's site can be found
here
. make sure you read all the other submissions on the link list. Everyone needs a little love, so make sure you comment too.
Rock on,
W.