I'm actually a little early this week for five sentence fiction, which makes a change for me... This weeks word is Detour so I thought of this ...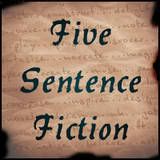 The rain was coming down so hard on the roof of the car it sounded like hail and it was darker than the inside of a ninja's socks.
Bryan drove as fast as he dared down the motorway, headlights only piercing the heavy downpour a little as they headed toward the hospital; Lillian puffed and panted in the throes of early labour in the back of the car, contractions coming every five minutes now.
Bryan sighed audibly as he spied traffic cones guiding him off the motorway to a turn off onto a country road and quietly hoped that Lillian hadn't noticed the change in direction.
"Don't think I haven't noticed Bryan," it appeared that labour made Lillian hyper-aware, "I can see that we have turned off, I have a BIRTH PLAN;" her voice went from low and threatening to shrill and terrifying, "and if I have to give birth in this car in the rain, at night, on the side of a country road and not in a hospital with qualified professionals close at hand with pain relief, I will devote the rest of my life to your downfall Bryan, love of my life or not!"
He raised his eyes to the heavens, knowing that she really didn't mean it, did a quick calculation on how long this might add to the journey and came up with five to ten minutes; "Don't worry honey, we'll be there before you know it." he said in his best calming voice and pressed on as fast as he dared into the lanes.
Be sure to check in on Lillie's page with the
linky list
and read everyone else's contributions. Comment as well, us writers are a needy bunch...
Rock on,
W.