Time again for Five Sentence Fiction. This time the prompt word is Distance.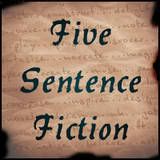 Henry looked up with eyes caked in sand and the salt of dried sweat. He had been walking for hours across the sand and had now lost track of time and when he last ate. He looked at his wrist where his watch had been, almost forgetting he had exchanged it for the map from Saddiq at the Cairo market over apple tea and strong cigarettes. Henry had been told it was a long way and he should take a horse, but he had run out of money after buying supplies and water. Checking his compass against the map, he shouldered his pack and set off, the lure of riches and fame far more powerful than common sense.
Lillie's site (very nice organiser lady) can be found
here
. The link will take you to the page with a links list to all the other folk that have got involved. Pretty cool eh?
Cheers,
W.