It's that time again Ladies and Gentlemen. This weeks prompt word is Faces.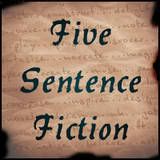 We were rocking hard tonight and the audience was into it in a big way; a sea of bodies jumping and writhing in time to our sound.
It was only a small club, maybe two hundred or so people in a pretty small hall, but that didn't matter as Guitar Mike tore into the opening riff to Long Train Running by the Doobies.
Fists pumped, the audience roared in delight, sweat ran down the walls and I grabbed the mic stand and prepared to battle with the crowd with my weapon of choice, daring them not to have a good time.
Then it was like time slowed down and for one brief moment in the din I could see every face, almost frozen in time.
Then I saw her, smiling, arms aloft and singing as hard as she could; right then it stopped being just another night with the band and became a performance.
Lillie's page is
here
. Make sure you go there, add your submission to the link list and have a read of the other ones. There is a whole bunch of good stuff there.
Rock on,
W.