It's that time again you know. Five Sentence Fiction does exactly what it says on the tin. There is a prompt word (see above) and off you go. Five sentences of fiction please. So, here's how I roll...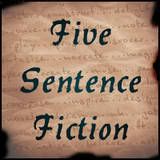 He crouched in the alleyway behind the pile of rubbish that stank of rotten food and urine, listening intently and trying to calm his breathing. The robbery had been a botch, he and his three accomplices had been sprung by the police and at least two of them were killed in the gun battle that swiftly followed. After some time had passed and he was absolutely sure that he couldn't hear the sirens getting any closer, he stood up and walked past the pile of rubbish, pulled down his cap, secreted the bag of diamonds in his jacket and affected a nonchalant air. Panic clearing, he was almost at the corner of the alley and under the streetlamps when he felt a firm hand on his shoulder and the cold, snub nose of a revolver on his neck; his heart sank.
"Alright Fingers Muldoon, you're nicked."
Lillie McFerrin, who is all kinds of smashing runs this weekly challenge and the page for your links to be entered onto can be found
here
. So go on, get involved!
Rock on,
W.