Here we are again and so soon! You would think that this was a weekly writing challenge or something... Lillie has charged us with writing five sentences on Devotion. Below is my contribution. Hope you enjoy it.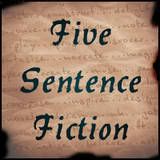 Adam disliked basketball; he had little hand/eye co-ordination, questionable fitness levels, a trick knee and the uniform did little for his stocky physique.
He had been playing in a social league for about a year now, for the team made up from employees at the supermarket that he worked in called Price Mart; The Price Mart Beavers (Go Beavers!).
He was making up the numbers to be honest; his skill level mediocre, he had a propensity to fumble most passes and couldn't make a lay-up if he had a step ladder.
His father had been a high school basketball star who had a cupboard full of trophies that shone in the sunlight through the living room window and really wanted Adam to play; the drills in the front yard were chores to Adam, but quality time with a father who worked nights was quality time however you looked at it and Adam enjoyed the talks they had while playing even though his father despaired of him sometimes.
Adam's Father had died eighteen months ago of a heart attack out of the blue during one of those front yard drills and as Adam held his lifeless body in his arms on the tarmac in front of the house, his body racked with sobs, he made a promise to play as much as he could, just so that when he heard squeak of sneakers on the court and the bounce of the ball on the backboard he could be with his father again, no matter how bad he played.
Lillie's page for Devotion is
here
. At the bottom there is a links list and you can add your contribution or just browse the other contributions. There are some fantastic writers out there and a strong friendly community. Get involved, I'm enjoying it loads!
Rock on,
W.